Open House Chicago 2017: By the numbers
Open House Chicago is a free public festival that offers behind-the-scenes access to more than 200 buildings across Chicago.
The seventh-annual Open House Chicago (OHC) took place the weekend of Oct. 14–15, 2017. Despite record-setting October rainfall on Saturday, strong Sunday attendance helped set new records at OHC's busiest sites.
Since 2011, OHC has attracted more than 1.7 million visits to 600 unique sites of architectural interest across Chicago, Oak Park and Evanston. In those seven years, OHC attendees have contributed more than $40 million to the Chicago economy. Most importantly, Open House Chicago encourages people to discover their city. More than 358,000 people have said OHC improved their perception of Chicago neighborhoods.
How many people attended in 2017? What did they see and do? View our 2017 results below and save the date for the eighth annual OHC, taking place Oct. 13–14, 2018.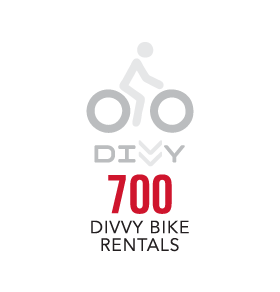 "I love Open House Chicago. I even knew it would rain all day the day I was planning to attend, but I did not want to miss out. I mapped out 16 sites to see and walked 9 miles. I had so much fun! I look forward to this event each fall."

—OHC attendee