Senior Director of Program Strategy; Executive Director, Association of Architecture Organizations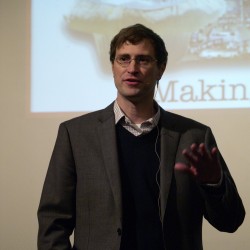 Michael Wood joined CAC in 2010, when he was hired to steward the recently formed Association of Architecture Organizations (AAO) as its first Executive Director. Headquartered at CAC, the AAO is a member-based network connecting the many nonprofit design organizations worldwide devoted to enhancing public dialogue about architecture, urbanism, and culture. Under Michael's leadership, the AAO Network has grown from 16 founding members to a network of 145 members spanning 65 US cities and nine countries. Its Design Matters Conference series, a traveling event that visits cities across the United States, is the largest annual gathering for nonprofit professionals working in the fields of architecture and K-12 design education. In spring 2015, Michael's leadership role with CAC expanded when he was tapped to oversee program development efforts for the Foundation's lectures and public events. As Senior Director of Program Strategy at CAC, Michael coordinates institution-wide efforts to bring into being new programs and visitor experiences for adult audiences.
Prior to CAC, Michael served several years as Director of Planning and Program Development at the Chicago Shakespeare Theater, a role spanning fundraising, institutional communications, audience and board development, and the growth of new program initiatives. He holds a bachelor's in Philosophy from The Colorado College.