Teach, lead and inspire students to explore architecture, design and the built environment.
The CAC offers educators unique, in-depth learning opportunities to explore architecture, construction, engineering and design concepts. Our hands-on training and award-winning curriculum will help you use design thinking and the built environment to teach core academic subjects and inspire future designers.
Training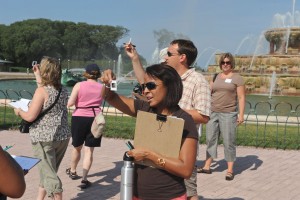 Throughout the year, the CAC hosts a variety of professional development programs for educators, from educator open houses to week-long summer institutes. Interested in upcoming teacher trainings? Sign-up to be alerted when new programs are added to our event calendar.
CAC Summer Scholars Program
The CAC is proud to offer "The American Skyscraper: Transforming Chicago and the Nation" workshop for teachers in summer 2021, in partnership with the National Endowment for the Humanities' Landmarks of American History and Culture. Applications for the Summer 2021 program will open December 2020.
Educator Advisory Committee
The Educator Advisory Committee is a collaborative group of Chicago area educators who use, evaluate and give feedback on the CAC's school offerings, and act as a CAC ambassador in their schools and communities.
---
Curriculum
Teach your students how to look at and see their built environment. Our curriculum will engage your students in their city while focusing on essential skills and project-based problem solving. To purchase a classroom set of any of the books listed below, please email groupsales@architecture.org.